Celebrate Virginia Intern Day!
Virginia Intern Day 2023 – July 27, 2023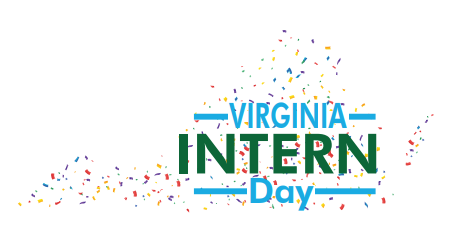 Join SCHEV, the Virginia Chamber Foundation, higher education institutions, and employers across the Commonwealth in celebrating Virginia Intern Day on July 27, 2023. Virginia Intern Day is an opportunity to recognize employers who have provided robust internship programs that benefit our future leaders of tomorrow and highlight interns' pivotal contributions to our ever-changing workforce.
To commemorate Virginia Intern Day, the Commonwealth seeks to recognize the "Top Virginia Employers for Interns" via a social media event. You are encouraged to nominate your business or organization to be considered for this distinction.
Business/Organization Nomination Form
Nomination forms are due by June 15, 2023
All employers offering internships, regardless of size and sector, are encouraged to submit a nomination form. The nomination form should take no more than 5 to 10 minutes to complete.
Virginia Intern Day Student Ambassadors
We are looking for Virginia Intern Day Student Ambassadors from each college and university in the Commonwealth to serve as representatives or advocates for V+TOP and Virginia Intern Day. The purpose of the role is to spread the word and promote Virginia Intern Day by showcasing their internship in Virginia during the 2022-2023 academic year (including summer 2023). Students should be nominated by their college or universities academic affairs or career services office to participate. Some benefits of becoming a Virginia Intern Day Ambassador include networking opportunities with peers, campus leaders, and employers across the state. In addition, Ambassadors will gain leadership and communication skills that enhance personal and professional growth. Finally, Ambassadors will be internship student advocates representing their higher education institutions, and this opportunity helps to promote internship awareness and participation across college campuses.  Have your students register here.
Ways to Celebrate
Check out our Virginia Intern Day Toolkit for ideas
V-TOP Recognizes the 2022 "Top Employers for Interns"
Governor Youngkin Proclaims July 28, 2022 as Virginia Intern Day
Governor Glenn Youngkin recently proclaimed today as Virginia Intern Day.
Live Updates