How can employers get involved?
The top concern of Virginia businesses surveyed is access to necessary talent. Virginia TOP seeks to solve this problem by:
Providing access to high achieving, interested, and invested students
Kick-starting the recruitment process for future talent needs
Enhancing relationships with local higher ed for access to talent
Highlighting skills in demand to a particular business or industry as part of school curriculum
Emboldening students to live and work in Virginia after graduation
As a Virginia employer, there are a variety of things you can do to get participate in Virginia TOP, such as:
Utilizing our Employer Toolkit to create work-based learning opportunities
Better connecting and partnering with chambers, associations, higher ed institutions, and students across the Commonwealth
Virginia Employer Readiness Toolkit
Virginia TOP's Virginia Employer Readiness Toolkit serves as a guide for employers across the Commonwealth to either improve their current work-based learning program or launch a new program. Please click here to download the toolkit.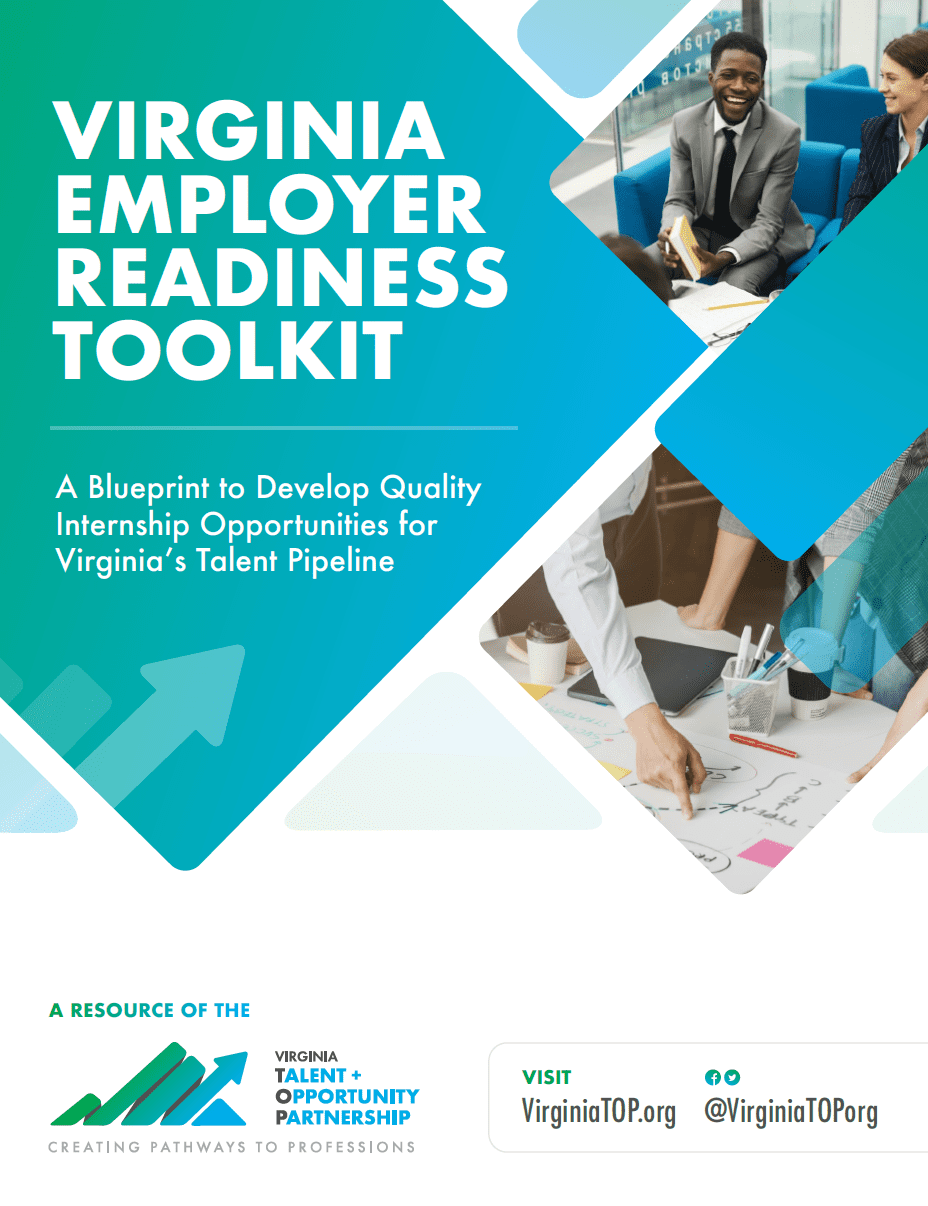 Who is currently participating?
Advanced Auto Parts
Amazon
Bank of America
Canon
ChamberRVA
Danville Pittsylvania County Chamber of Commerce
Dominion Energy
ECPI University
Ferguson Enterprises
Fredericksburg Regional Chamber of Commerce
Halifax County Chamber of Commerce
Hampton Roads Chamber of Commerce
Hampton Roads Workforce Council
Harrisonburg-Rockingham Chamber of Commerce
Huntington Ingalls Industries
McGuireWoods Consulting
Northern Black Virginia Chamber of Commerce
Bristol TN/VA Chamber of Commerce
Northrop Grumman Corporation
Prince William Chamber of Commerce
Roanoke Regional Chamber of Commerce
Smithfield Foods
Stihl
Thompson Hospitality
Top of Virginia Regional Chamber
Urban League of Hampton Roads
Verizon
Virginia Asian Chamber of Commerce
Virginia Business Higher Education Council
Virginia Hispanic Chamber of Commerce
Virginia Economic Development Partnership
Virginia Port Authority
Virginia Tech Foundation
Quick Links
Have additional questions?
Virginia TOP has developed a list of frequently asked questions about a variety of topics. Visit our FAQ page to learn more.